Paintball Equipment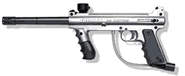 Tippman 98 Semi Automatic.
Rate of Fire:up to 7 shots per second
Velocity:- 206mph
Goggles - Scott Extreme Safety System
Specifically designed for
high speed projectiles

Hopper
Holds up to 200 rounds.
Gravity feed.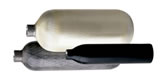 Free Gas
High pressure CO2 cylinder 20oz of pressurised liquid propellant.
Additional Equipment

Paint Grenade
High explosive paint filled device.
Do not store in pocket

Smoke Bomb
Produces thick white or coloured smoke screen
Burns for approx.1 minute.
You will also be supplied with protective overalls and a battle pack incorporating. valuables pouch and capacity for a further 300 rounds of ammunition.*
Grenades and smoke bombs are pyrotechnic devices and as such are not available to players under the age of 18 years old.
* Actual equipment supplied / available may vary from venue to venue. Photos and descriptions are for illustrative purposes only.
Select a Location

We have 120 Paintball Site's in the UK and Ireland. Use the map above to find a Paintball Site in your area or click here to view all our Sites